I worked at Westpac as an Interaction Designer. My role covered customer testing (including reporting), facilitating focus groups, interaction diagrams, IA, prototyping, UI design, HTML/CSS and UI documentation.
Online Guardian
I led the user experience on the Online Guardian project for over two years. Online Guardian is Westpac NZ's second factor authentication system. The scope of the project touched all out front-end touchpoints (i.e. customers and front-line staff) as well as internal banking systems. Because of this a large amount of collaboration and engagement with many different departments across the entire bank was required (i.e. online, product stakeholders, internal systems, security & fraud, change management, customer support, assisted channels, legal, marketing, etc.).
Customer research and testing was conducted during the project, and included both customers and front-line staff in multiple locations in New Zealand. We tested the language, UI patterns, interactions, barriers to understanding, expectations and perception. Working closely with the change manager I also produced support material and working simulations to help with the support staff training prior to rollout.


Online Guardian login splash screen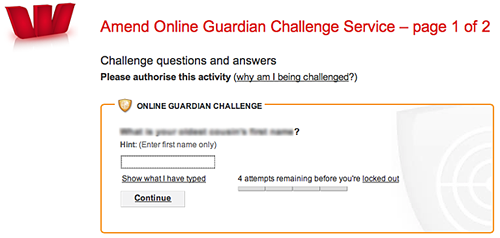 Online Guardian challenge question
In addition, to our own banking systems I also worked on our Online Guardian integration with third party providers (e.g. Visa and MasterCard) to ensure we gave Westpac customers a similar safe experience during online purchases when using Westpac issued credit cards. The patterns for Online Guardian were also adapted for use within our mobile and tablet apps too.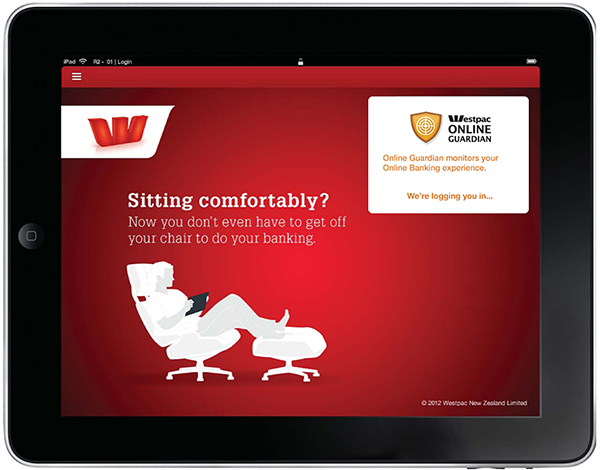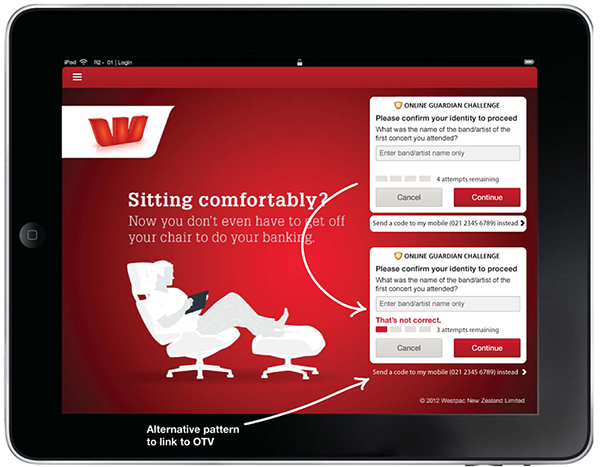 International payments
Lead user experience design for Westpac's international payments.
The aim of this project was to take and offline process and create a simple and understandable online experience that offered the same level of customer support and ease offered within branches.
Starting with a research phase with customers who currently used the existing branch service, we wanted to discover their level of understanding relating to all aspects of transferring money overseas. We learnt about some of their concerns, key drivers and future needs not supported within branch experience. Additionally, we also worked with key stakeholders within Wellington and our International Office in Auckland to get further insights into common issues and frustrations experienced by customers.
One of the big discoveries occurred during our observation sessions in our Wellington branch. Posing as a customer I discovered that front-line staff were validating and correcting a large amount of the manual payment instructions on behalf of customers. Further investigation proved that customers were unaware of mistakes they made in the payment instructions and so perceived international payments as simple and easy process to complete. This was a key insight into designing an online experience that equally scaffolded the customer through the payment flow.
The final design achieved this through partial reveals within thet flow that presented contextual questions, supporting information, exemplars of transfer patterns and prompts as they progressed through the flow. This was vital for customers as incorrect international payments are extremely hard to reverse, and also incur additional fees to do so.
Three rounds of usability testing and iterations were conducted before first release. Feedback from our support channels indicated a very low level of support calls with the initial rollout. In addition, the number of international money transfers rose from 7,000 per month in branches to around 21,000 online transfers per month within the first 3 months of release.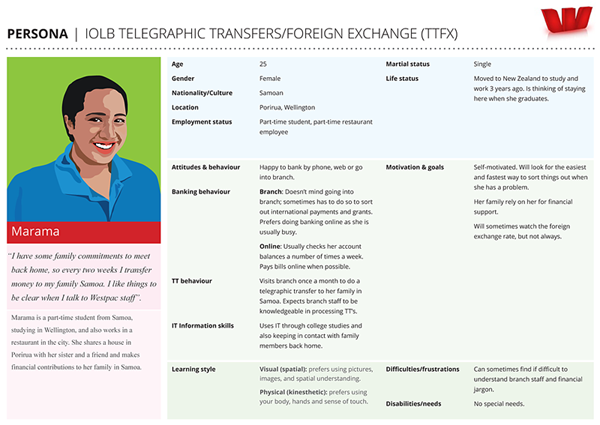 Persona for international payments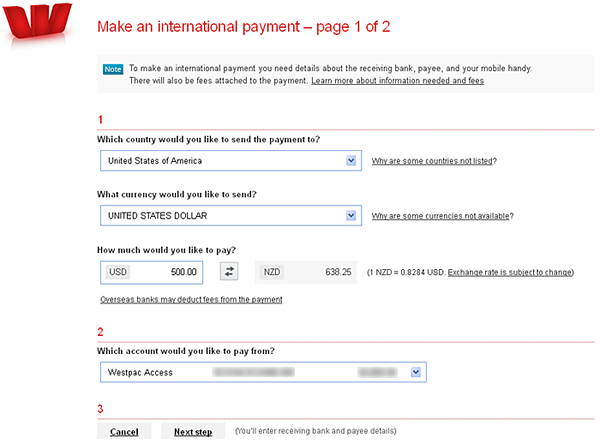 International payments - page 1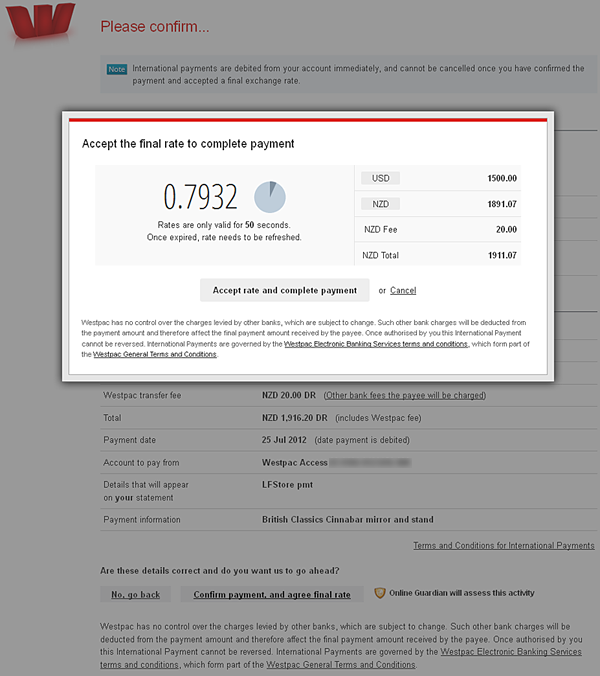 International payments - get live rate
Westpac NZ tablet banking app
Senior UX designer on the project, and worked directly with external design agency and Westpac Mobile Channel Manager.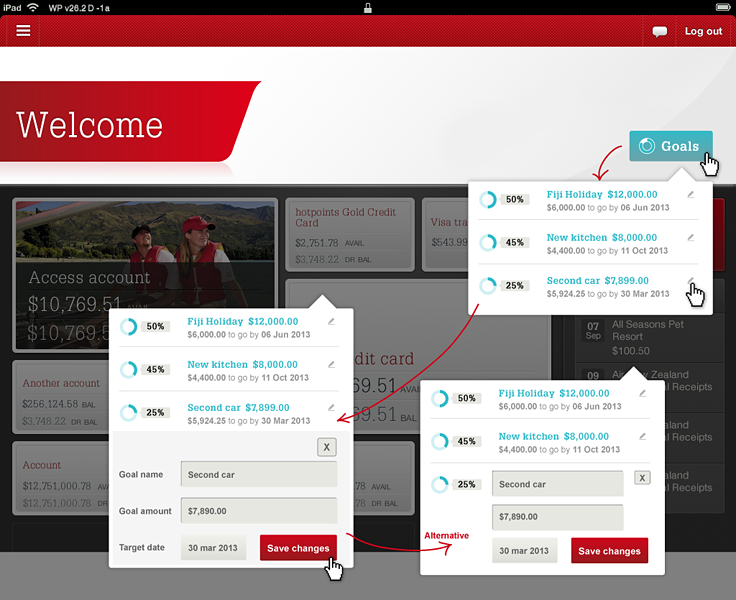 Westpac iPad app - setting saving goals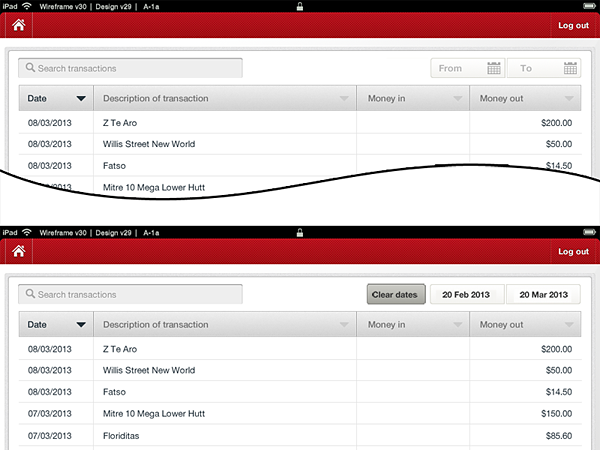 Date picker pattern for iPad app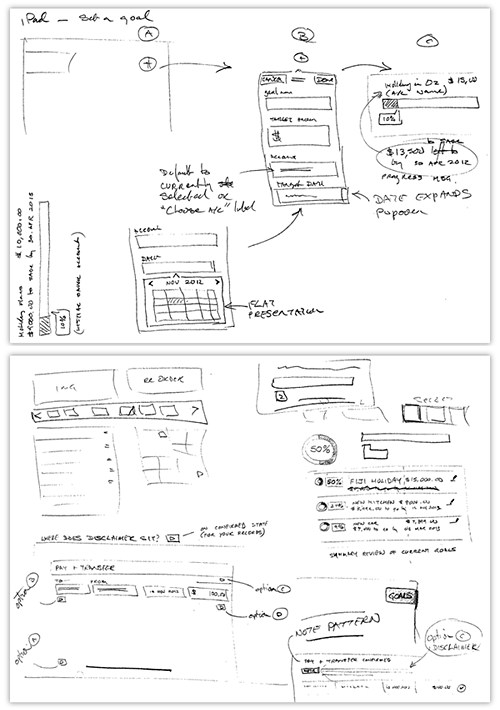 UX sketches for iPad
Westpac NZ mobile banking app
Senior UX designer on the project, and worked directly with external design agency and Westpac Mobile Channel Manager.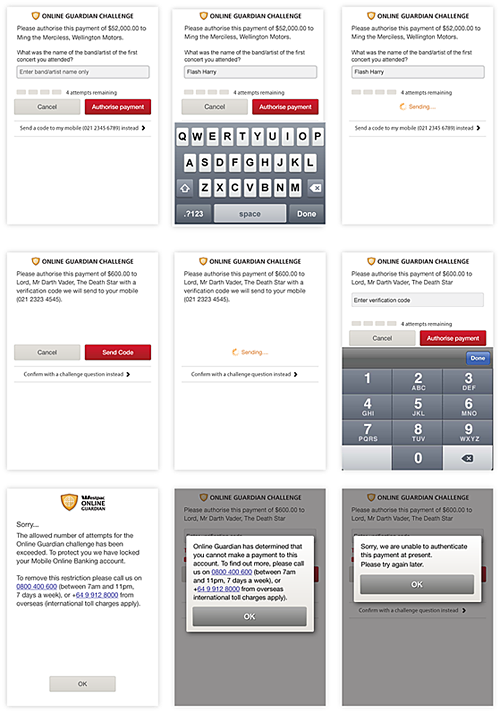 Online Guardian for mobile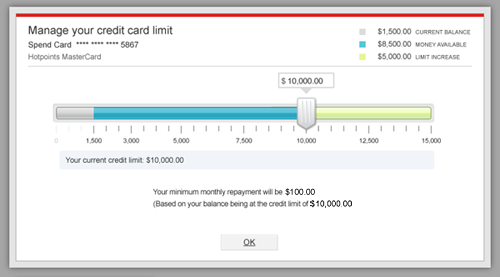 Manage credit card limit online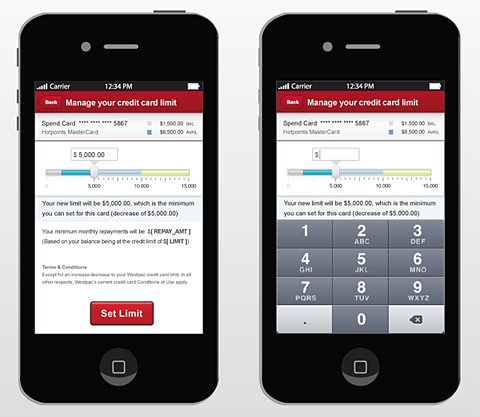 Mobile manage credit card limit online
eCommerce Authentication
Leading the user experience to integrate the Westpac Online Guardian into online purchases for our customers. The project included initial usability research and usability testing of a proposed design and flow before development.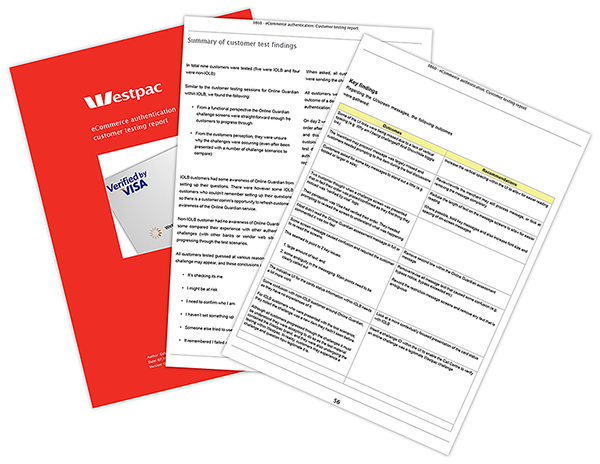 eComm Authentication test report